The Launch: April's Hottest Fashion Drops

We're finally getting into the swing of spring, and fortunately, the fashion is right there with us, ready to bloom. From Wandler's new collaboration with Germans Ermičs to Lafayette 148's foray into outerwear, we've got the scoop on the best and boldest fashion news, collaborations, and releases this month. Watch this space for more intel as the month continues.
1

Wandler Launches Artist in Residence Series With Germans Ermičs
Who: Wandler
What: First Artist in Residence collaboration with Germans Ermičs
Where: Available exclusively online at Wandler
Why: Elza Wandler, the creative director behind cult accessories brand Wandler, is a passionate art and design enthusiast—a trait that's exhibited in her sculptural handbags and footwear. So it's no surprise that Wandler is launching its very own Artists in Residence program for artists to inject their unique POV into Wandler's beloved accessories. For the very first collab in the series, Wandler has tapped Lavtian-born, Amsterdam-based artist German Ermičs, known for his innovative takes on color play and space, and using striking color permutations on glass objects. Ermičs's signature Blue Collection was the jumping off point for the series of handbags, spray-painted by hand in an elegant blue gradient. The result? Wearable art that blends utility and style.
2

Lafayette 148 Presents the L148 Outdoor Collection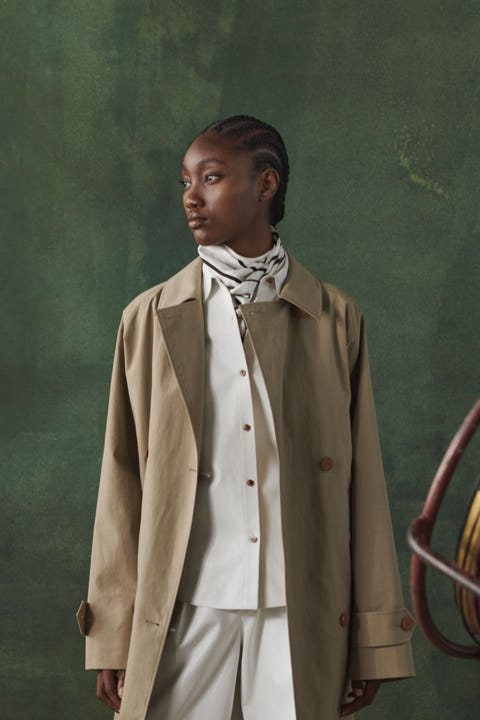 Who: Lafayette 148
What: New outerwear collection
Where: Available online at  Lafayette 148
Why: Lafayette 148 is bringing its luxury POV (literally) into the wild with the launch of its new outerwear collection, appropriately called L148 Outdoor. Comprised of a waterproof elongated anorak, trench, and car coat, each piece is constructed to brave the elements—in the most stylish way possible. Special design techniques such as thermo-sealed taped seams that form masculine silhouettes are softened by feminine details. April showers have truly met their match.
3

Etam Debuts in the U.S.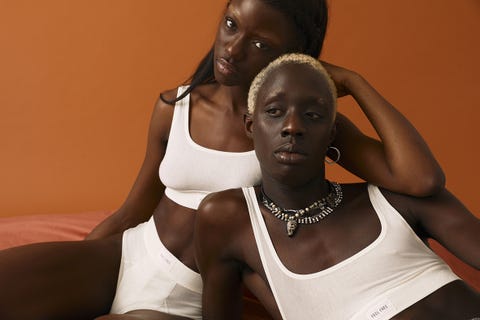 Who: Etam
What: Etam's U.S. debut
Where: Available for purchase at 10 Nordstrom locations in the U.S. (NYC, Seattle, Chicago, Miami, Dallas, San Francisco, Boston , San Jose, Washington D.C., and Phoenix) and online.
Why: A new brand is touching down in the States, offering the French tradition of savoir-faire corsetry for all fashion-loving Francophiles to enjoy. For background, Etam, founded in Paris in 1916, is the only lingerie label to participate in Paris Fashion Week, and its most recent collection includes a very covetable genderless capsule. The company prides itself on being a sustainable option for delicate, low-profile lingerie. In fact, half of Etam's styles are made using recycled or organic fiber, and it uses technical methods such as vegetable dyeing and making linen lace from flax to reduce harm to the environment. Suffice to say, Etam's lingerie gives your everyday undergarments what it's been missing—that certain je ne sais quoi.
4

Goldie Introduces Goldie Organic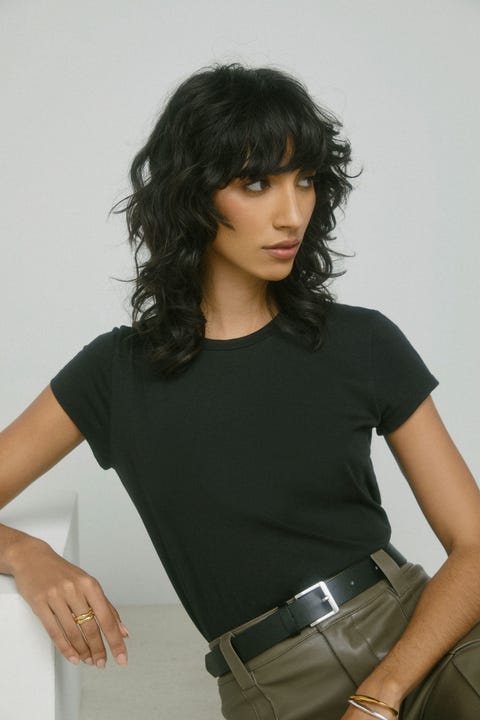 PHOTO BY SHELBY GOLDSTEIN
Who: Goldie
What: New sustainably sourced T-shirt line
Where: Available online at Goldie and amazon.com
Why: Goldie, purveyor of high-quality, sustainable basics, single-handedly changed the T-shirt game back in 2016 when it quietly launched with a curated collection of its perfect take on the staple. To further improve on its first (very successful) design attempt, it's now rolling out Goldie Organic, a new collection featuring six new styles certified by the Global Organic Textile Standard, meaning both the materials and supply chain are environmentally conscious. Additionally, the manufacturing process prioritizes fair pay and working conditions in the northern Amazon and mountains of Lima, Peru. These lightweight, super-soft tees complete any casual look and serve as a testament to Goldie's mission of protecting both each other and the planet.
Thank you.
RELATED
Check our Products on Sale!
---
Some of our hot selling products :